MINERS' HUTS
The so-called miners' huts were small, rustic farm houses in which the miners used to live together with their families. They were mainly to be found in Obergand and Untergand, close enough to the mines that the miners could travel between their home and workplace by foot every day. The families were allowed to use the land for farming and raising livestock, thereby earning a little extra money. In some cases, the miners' families were also allowed to cut firewood from the adjacent forests.
Fig.: Restored miners' hut in Fügen, Zillertal (Illustration © Oliver Kopp)
Fig.: Miners' hut used both to rest and to store materials and mining tools (Illustration © Oliver Kopp)
Fig.: Miners' hut used to store materials and mining tools (Illustration © Oliver Kopp)
Miners' forge from
the year 1554
Fig.: Illustration of a mountain forge adapted from the Schwazer Bergbuch, published in 1554 (Illustration © Oliver Kopp)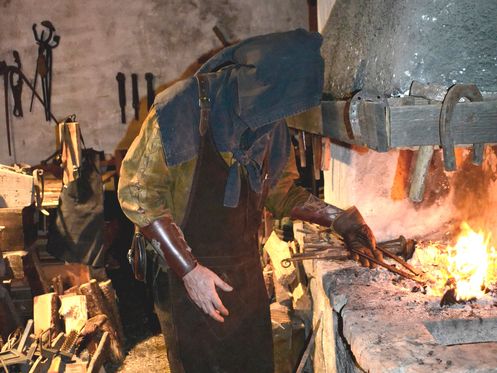 Fig.: A fully running blacksmith shop in the Knappenwelt Gurgltal, Tarrenz (Picture © Knappenwelt Gurgltal)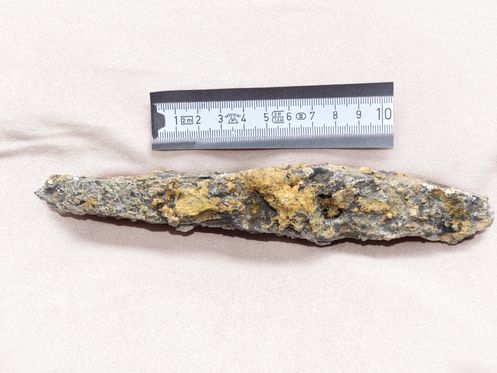 Fig.: Pick from a miner's toolkit, which usually consisted of a hammer and pick to drive tunnels into the mountain; site of the find: Gand
Every mine, regardless of how small, had a hut for miners to store materials and tools, especially those that were necessary to carry out the hard work in the pits. This included various tools, first and foremost hammers and picks, but also wooden planks, beams, and stakes as well as iron parts such as straps, hinges, and spare parts for tools. Often, accommodation was also included, so that miners could not only store the things they did not need,
but also warm themselves up and prepare something to eat at the hearth. The huts at larger mining sites could also host a small forge, which was helpful in preparing or repairing tools. A good quality toolkit was essential for the successful operation of any mine, which is also why a blacksmith was employed wherever possible. One of the most important tools was the gad, used to break up or loosen rock and later to sharpen the gimlet.
Sometimes, if the so-called pit hut was directly located at the entrance to the mine, there was also a mine surveyor sitting in the house, recording the exact times at which the miners went into the mine and came out again.
MOUNTAIN HOUSING
Miners usually lived in very simple houses or huts. Special miners' housing was built only where the mines were situated higher up the mountain or a long distance from the next village. The miners lived there from Monday to Friday. The basic huts were equipped with a dining and common area, as well as a dormitory. As the Gand mines could be reached by foot in less than an hour, no separate mountain housing was erected.