Fig.: Detail of the geognostic (= geological) map of the Tyrol from the archives of the geognostic mining society of the Tyrol and Vorarlberg, 1849.
TYPES OF ROCK
r
Red sandstone (= Alpine Verrucano)
ua
Lower Alpine limestone
ma
Middle Alpine limestone
MINES
Mines in operation (1849)
THE UPPER EASTERN ALPS
Over 90 % of the surface rock in North Tyrol were once sediments collected in the shallow shelf sea at the northern edge of the African (Apulian) Plate. During Alpine orogeny, these sediment layers were thrust northwards and collided with the southern edge of Europe, and now lie folded on top of each other. The Upper Eastern Alps, which is where the Gand mines are located, form the top layer.
ALPINE VERRUCANO
The Gand mines are situated amid Alpine Verrucano rock. The product of erosion of the Variscan mountains (a complex of overthrust and folded mountains named after the Variscan people, an ancient Bavarian tribe), Alpine Verrucano is mainly composed of sandstone and shale rock, as well as connecting sand-shale formations. Limestone can also be found in several places across the area. The varying quantities of limestone are determined by the ever-changing conditions that influence rock formation.
This is because pure river sediment tends to result in sandier deposits than still waters, which usually lead to the formation of clay. Alpine Verrucano forms the base of the Lechtal Alps, which are part of the greater Northern Limestone Alps located uphill to the north of here. In the process of Alpine orogeny, these once horizontally deposited rocks were folded to a near-vertical state and were moved around in many different directions by the colliding tectonic plates.
Schematic geological
north-south-profile
of the Gand mine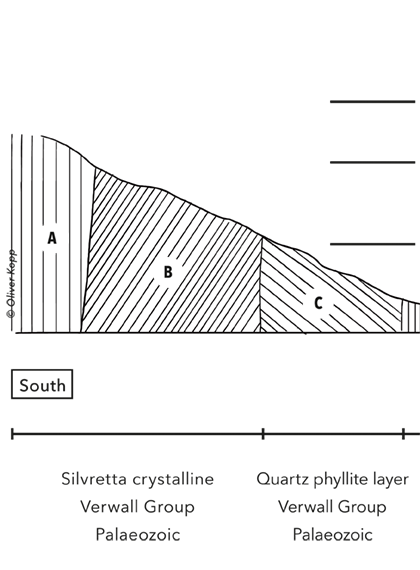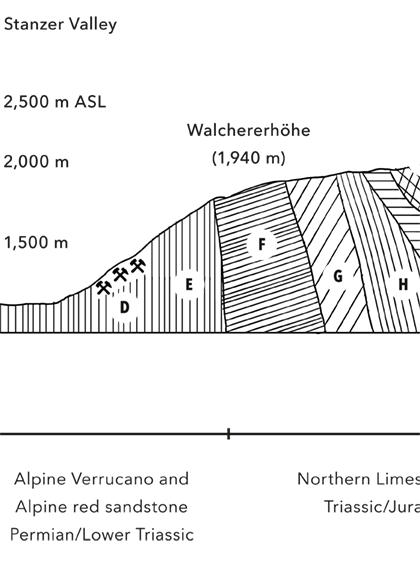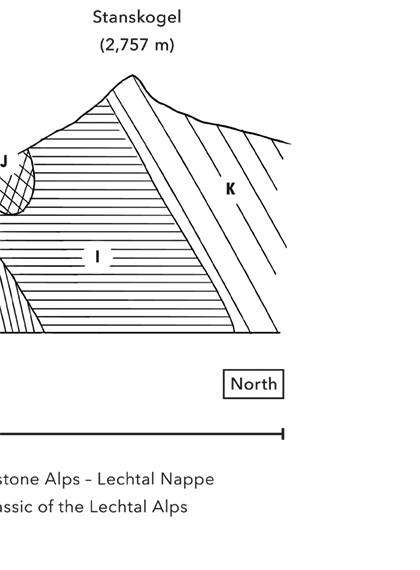 MAIN DOLOMITE AND RAIBL FORMATION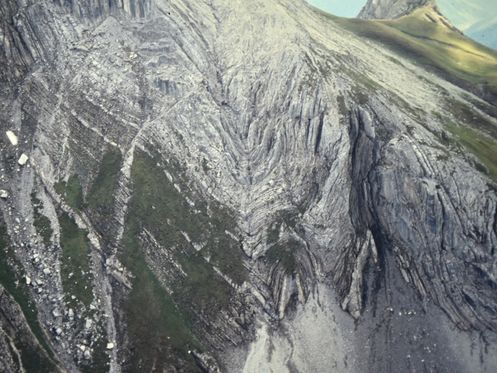 Fig.: Folds of the main dolomite in the main ridge of the Lechtal Alps to the north-east of Gand (in the Grießkopf area)